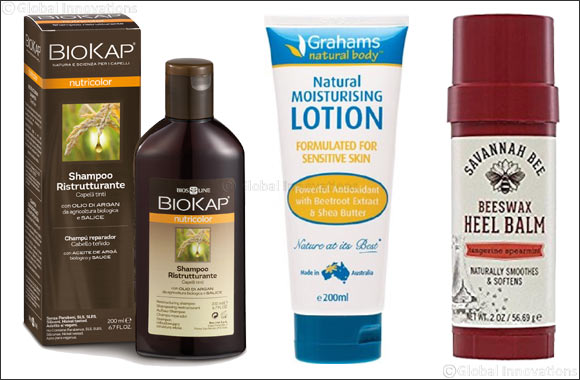 Dubai, United Arab Emirates, January 26, 2020: The one-stop shop for all your health, wellness and beauty needs offers a variety of natural products that will help you feel confident in your skin and haircare choices. Formulated without harsh ingredients, below are some of the top natural beauty picks of the week from Aster Pharmacy that are a must-have in any natural beauty regime.
1. Grahams Natural Moisturizing Lotion 200ml (AED 102) replenishes and nourishes the skin's moisture barrier through its rich blend of Sunflower seed oil, Sweet almond oil, and Beetroot extract. Enriched with Shea butter so the skin is left feeling soothed and hydrated.
2. Tea Tree Therapy Eucalyptus soap (AED 25) is vegetable-based and is infused with Eucalyptus radiata Oil, Lavender Oil and Tea Tree Oil to give it anti-microbial action with aromatic deep cleansing freshness and softness.
3. Biokap Nutricolor Restructuring Shampoo 200ml (AED 59) thanks to the plant surfactants, it ensures extremely gentle cleansing of the hair and scalp, at the same time strengthening the hair fibre and making it soft and voluminous.
4. Desert Essence Pumpkin spice Hand Repair Cream (AED 118) enriched with organic jojoba oil that deeply penetrates the skin leaving it soft and supple, organic pumpkin seed oil with high levels of vitamins A, C, E, K and zinc helps to combat daily environmental stress on the hands.
5. Savannah Bee Beeswax Tangerine Spearmint Heel Balm 56.96g (AED 73.50) treat those pesky areas of dry, cracked skin with this amazing moisturizer, the Beeswax Heel Balm from Savannah Bee. It's free of parabens and phthalate, not tested on animals, and gives off the refreshing scent of tangerine and spearmint.