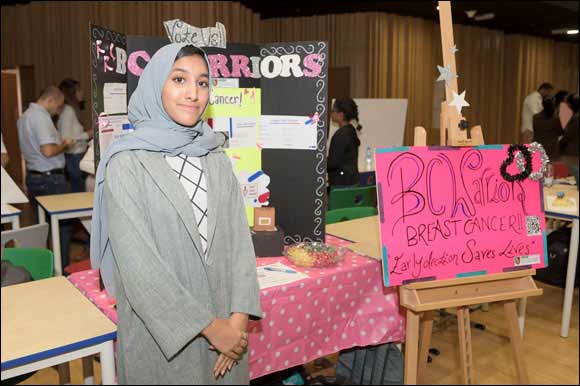 Dubai, United Arab Emirates: The fourth edition of the region's largest youth innovation and entrepreneurship exhibition took place in Dubai on 8 February and in Abu Dhabi on 15 February 2020. The GEMS Global Innovation Showcase saw over 1,500 youth innovators across 400 teams present their technology-rich solutions to global and corporate challenges.
Participating teams used exponential technologies such as machine learning and data science to address the world's most pressing issues across a range of topics including healthcare, education, disaster resilience and prosperity. The students exhibiting at the events, which are part of the annual Global Innovation Challenge, were shortlisted from a pool of 50,000 students across the GEMS Education network.
Michael Gernon, Chief Education Innovation Officer at GEMS Education, who leads GEMS X, the innovation-focused research and development arm of the organisation, said: "The Global Innovation Challenge is one of the most spectacular highlights in the GEMS X calendar. To see what students are creating in solving some the world's greatest challenges is truly extraordinary. Their understanding of the world of the future is exemplified through both the Challenge and also the unique curriculum that every GEMS Education student is exposed to – an understanding of the impact of exponential technologies on future society.
"No other student or school has access to the Global Futures Curriculum and the Global Innovation Challenge. Through this exposure, we know that our students will be the next generation of serial entrepreneurs and innovators, capable of influencing the world at scale."
This year's Global Innovation Challenge projects range from natural calamity warning drones (Team Natural Disaster Detective from GEMS Wellington International School) and sensor-loaded modular hydroponics-based micro-cultivation platforms for refugees (Team FoodOre from GEMS Modern Academy), to a smart watch catering to the needs of patients suffering from cognitive impairment such as Dementia and Alzheimer's (Team Neureno from GEMS New Millennium School – Al Khail).
The Dubai edition of the event was held at GEMS Wellington Academy – Al Khail, while the Abu Dhabi edition was hosted by The Cambridge High School, which also welcomed the Canadian Ambassador to the UAE, Her Excellency Marcy Grossman. Some 3,500 visitors were in attendance across both events, as well as 100 industry judges, who assessed the teams on innovation, feasibility, passion and impact.
The teams selected as finalists will be inducted into a two-month acceleration programme that includes personalised industry mentorship and entrepreneurship workshops covering design thinking, prototyping, business planning, marketing and pitching. The winners will also have the opportunity to attend a special two-week entrepreneurship bootcamp in July 2020 at the Ryerson Creative Academy, GEMS Programme in Canada. Students will be flown to Ryerson's main campus in Toronto, where they will participate in exclusive workshops, further develop their prototypes, join a community of entrepreneurs and be exposed to North America's entrepreneurial ecosystem. The workshops will cover topics including design thinking, lean start-up, value proposition, market research, prototyping, brand identity, funding, marketing and IP. Teams will also receive immigration consulting and application review support.
Charles Falzon, Dean of FCAD, Ryerson University's Faculty of Communication and Design, said: "There is nothing like the Ryerson Creative Academy elsewhere in the world, where young people are given the opportunity to immerse themselves in a two-week experience that is focused on applied creative entrepreneurship in a vibrant urban setting like Toronto."
Canadian Ambassador to the UAE, Her Excellency Marcy Grossman, said: "The partnership between Ryerson Creative Academy and GEMS Education is a great example of how Canadian education institutions can support talented students from the UAE to become tomorrow's entrepreneurs. GEMS Education students who participate in this programme in Toronto will have the unique opportunity to experience one of the most vibrant innovation ecosystems in North America."
GEMS Education has also partnered with ecommerce giant noon to set up the 'GEMS noon next challenge', geared towards redefining the online shopping experience and increasing sustainability in logistics. To help them with their entries, GEMS Education students were given the chance to visit noon's headquarters and warehouse to better understand the industry and propose informed solutions.
Halyna Kitor, Head of [Awesome] People at noon, said: "We were extremely excited and privileged to host the students at noon. In fact, we gained a lot of inspiration ourselves while dealing with such a bright and passionate generation of youth, who have a completely new perspective on things and plenty of innovative ideas that will help us address the customer needs of the future and become a more sustainable and conscious organisation."