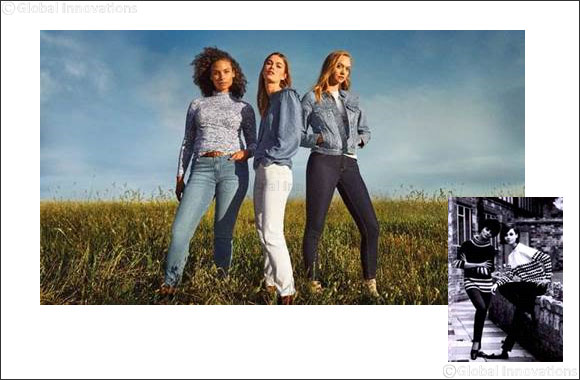 Dubai, United Arab Emirates, February 25, 2020: Marks & Spencer launched it's first ever Denim advertising campaign at the beginning of February as a true celebration of this much loved fabric. Alongside jeans, Marks & Spencer offers a selection of seasonal wardrobe updates including blouses, jackets, dresses and jumpsuits; offering easy denim outfitting options for every occasion.
Marks & Spencer is a market leader in denim in womenswear, serving 1 in 10 denim shoppers in the UK; proving that Marks & Spencer jeans really are Britain's Best Loved Denim. This position is built on a foundation of decades of denim design and innovation, as illustrated in our brief history below…
Introduction of stretch jeans with Lycra for men and women
The 'Original Jeanswear' label was relaunched for women. The range included floral print denim. The 'Western Denim Jeans' label for men included with bleached, stonewashed and indigo styles Marks & Spencer becomes the first high street retailer to sell a range of jeans made from Fairtrade cotton
In 2020, Marks & Spencer remains a go-to denim destination for customers, selling on average 15 pairs of jeans every minute. 100% of the cotton for our clothing fabrics is now more sustainably sourced, which encompasses out entire denim offering. By sourcing more sustainable cotton through partners including the Better Cotton Initiative, thousands of farmers are supported and benefit from more sustainable practises including efficient water, pesticide and fertilizer use.
The Ivy skinny leg, The Lily slim leg and The Sienna straight were centre stage in the campaign; each is available in at least five authentic washes; from classic black and indigo to a fresh ecru and light grey.