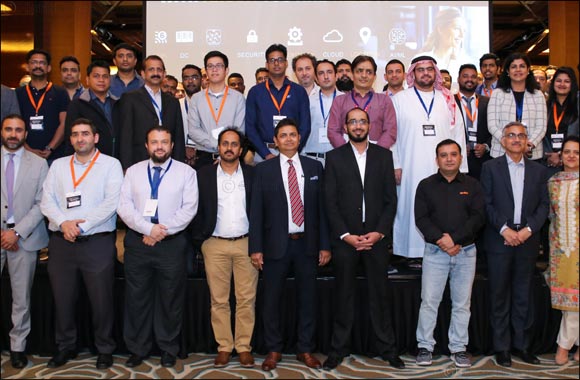 Dubai, February 26, 2020: Al-Futtaim Technologies and Aruba, a Hewlett Packard Enterprise company, jointly held a session showcasing the benefits of Wi-Fi 6 and Cloud Managed networking to over 60 IT and network professionals from across the UAE.
The half-day session led by experts from Aruba and Al-Futtaim showcased the benefits and key considerations businesses need to take before upgrading their network. The attendees benefitted from a greater understanding of the sixth-generation wireless standard, 802.11ax (Wi-Fi 6), which promises to address issues related to the growing density and diversity of devices by increasing network capacity and improving user experiences.
With over 92% of global midsize businesses using at least one cloud-based application, the session also highlighted another important topic – Cloud Managed Networks. Cloud-managed networking is rapidly growing in popularity and a fast, reliable network keeps users productive and customers happy. It means employees can connect and collaborate in the latest ways via mobile devices, cloud-based applications and IoT and respond to customers faster than ever.
With the increasing demands on IT due to the explosion in connected devices, time and money are more valuable than ever. Simplifying day-to-day network administration tasks and increasing visibility and control is critical to save businesses time and to get the most out of their network.
Commenting on the event, Hasan Ali, Divisional Manager – Technology Infrastructure at Al-Futtaim Technologies, said, "In today's digital era, Wi-Fi is quickly becoming the connectivity method of choice even for mission-critical applications such as voice collaboration and unified communication amongst others.
"With an increasing number of diverse applications, along with mobile and IoT devices reliant on wireless access, networks must deliver high performance, reliability and security. Through the session, we were able to highlight the key advantages and considerations that businesses must make before switching or upgrading to their next wireless network," he added.
"In the wireless world, speeds and capacity have also increased over time, but there remains the need to improve network efficiency for high-density deployments. Improvements with the latest generation of wireless, Wi-Fi6, address this by focusing on efficiency and reliability and high-density connectivity, which are necessary given the explosion of wireless devices, including IoT gear," said Gamal Emara, UAE Country Manager, Aruba.
Aruba is a leading provider of secure, intelligent networks that enable customers to thrive and deliver amazing digital experiences in the mobile, IoT and cloud era.