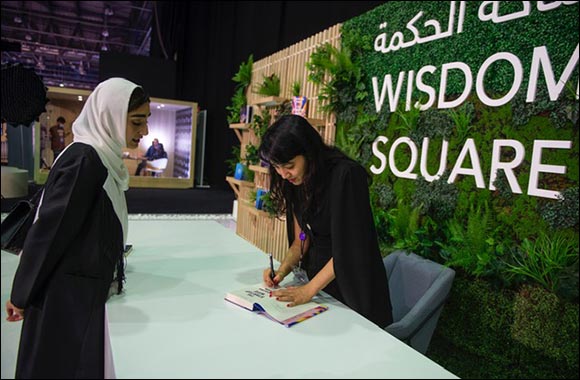 • Futuristic hub highlights its cutting-edge facilities that support entrepreneurship and creative pursuits
• Hosts a talk with Tahmima Anam, author of The Startup Wife at SEF 2021, who highlights the deep gender equalities embedded in the global startup ecosystem
Sharjah, November 24, 2021
The various immersive and non-traditional spaces for learning, sharing, creating and accessing knowledge at the House of Wisdom were showcased to the more than 4,000 young entrepreneurs, future founders and innovators at the fifth Sharjah Entrepreneurship Festival who were encouraged to take advantage of the multiple learning facilities at the futuristic and cultural hub in their quest for innovation.
The House of Wisdom's pavilion at SEF 2021, which creatively reinterpreted its central courtyard or the Wisdom Square, attracted hundreds of creative makers and passionate innovators who visited the two-day festival. Through engaging dialogues with House of Wisdom experts, visitors were offered detailed consultations on ways they can use the destination's facilities to build product prototypes and transform their ideas into creative projects.
Five book signing sessions were also hosted at the House of Wisdom pavilion at SEF 2021. Authors Michael Acton Smith, Pauline Nguyen, Vishen Lakhiani, Tahmima Anam, and Lewis Howes signed their books at the Wisdom Square.
Marwa Al Aqroubi, Director, House of Wisdom, said: "The House of Wisdom is a dynamic space for enhancing learning through dialogue, and experimentation, where one can gain proficiency not only in the arts and sciences but also in entrepreneurship. For instance, our Fab Lab makerspace is equipped with cutting-edge technologies including state-of-the-art 3D printers, laser and vinyl cutting machines, and more, which innovators can leverage to create prototypes of products and experimental projects."
She added: "To fulfil the goal of enriching learners through discussions that offer diverse perspectives, the House of Wisdom hosted a talk with Tahmima Anam, author of The Startup Wife. The insightful discussion shed light on entrepreneurship and gender balance in the workplace."
At the session titled 'Subverting Stereotypes: Rethinking Gender Dynamics in the Startup Realm', Anam, said: Although startup tech leads us to a world of magic and incredible possibilities and changes lives, what it cannot disrupt is the deep inequalities women face and the inherent patriarchy embedded in the system."
She added: "We are hardwired in our brains to see men as visionaries and not women in leadership positions in the tech culture. To reclaim our power and our space, women must firmly believe that their presence in leadership positions is beneficial to the entire ecosystem. Women leaders are good for society, and it also makes good economic sense to have women at the helm."
At the session hosted by Sally Moussa, international presenter and speaker, the author added: "What I would love for men to do - to shift this narrative, is to become more conscious of the language they use in a male-only space – even when no one is listening."
The fifth edition of the Sharjah Entrepreneurship Festival (SEF), one of the largest events for entrepreneurs in the region, organised by the Sharjah Entrepreneurship Center (Sheraa), witnessed the participation of 55 speakers, including influential regional and global entrepreneurs, industry titans, and young creatives from social, cultural and sports sectors, and more. The two-day event brought together more than 4,000 entrepreneurs and founders of startups across sectors on one platform, who discussed ways to make a meaningful impact and promote positive change in the local and regional entrepreneurship sectors.