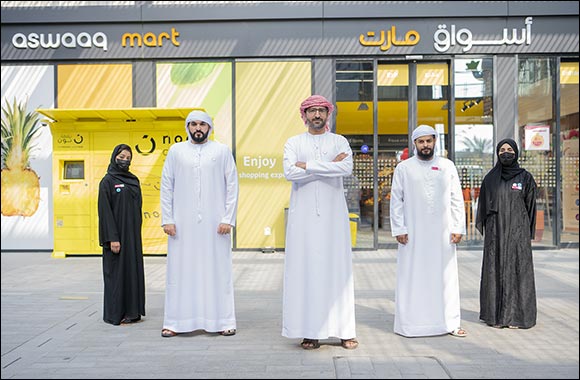 Dubai - 29, November 2021: aswaaq Retail L.L.C., the pioneering local brand delivering a top-quality retail experience in a friendly shopping environment, is set to make this year's UAE National Day celebrations a lasting experience. On the occasion of the UAE's 50th National Day, the aswaaq Mart (Al Warqa'a 3) will be fully operated by a team of UAE Nationals serving customers during the whole month of December, 2021.
aswaaq has been committed to serving the local communities since the inception of the brand. Through the National Day activity, aswaaq hopes to reinforce their trust and support to the team and the community. This is merely the first step in a long term plan to promote and encourage UAE Nationals to join the retail force. The brand hopes to increase interest in the retail sector from UAE Nationals and encourage greater involvement across levels of the retail sector in the future.
The month-long National activity at aswaaq will be a live example of the significant value UAE Nationals can add to the retail sector. On the occasion of the country's 50th year celebrations, aswaaq welcomes more UAE Nationals from across the Emirates to join the team and grow the future of retail in the country. This National Day, aswaaq places focus on the people of the nation and remains committed to creating a future for the UAE that is community-driven, and community-grown.