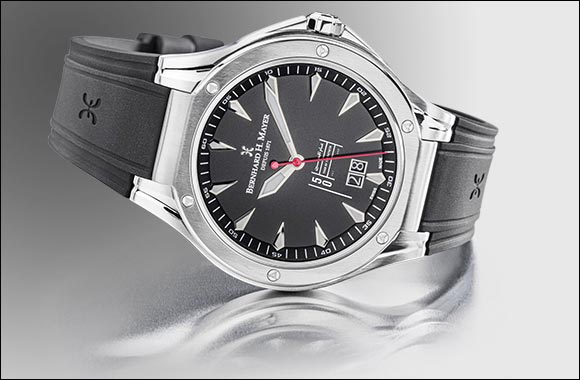 Dubai; 01 December 2021: Timepiece aficionados will attest that limited edition watches are the ultimate possession of any watch collection. When specially designed to commemorate a once-in-a-lifetime global event, they become timeless icons of celebrations.
As the UAE commemorates 50 years since the unification of the seven emirates under one flag, Bernhard H. Mayer, a Swiss made watch brand is giving another reason to celebrate with the launch of the limited-edition watches of the Bernhard H. Mayer UAE 50th Anniversary Collection:
Le Classique Special Edition – UAE 50th Anniversary Watch
With its black strap, dial and stainless-steel case, this watch is designed to be a daring yet subtle conveyance of power and elegance.
Le Classique Ladies Gold Special Edition – UAE 50th Anniversary Watch
Combining luxury, elegance, and power in the form of a charismatic black and gold timepiece, this watch is an embodiment of everlasting charm.
Both designs feature the official UAE's 50th Anniversary logo on the dial, and much like the golden falcon that represents the strength and heritage of the monarchy, these limited-edition watches represent Bernhard H. Mayer®'s commitment to the UAE – one of its most important markets in the region.
"On the occasion of the National Day of UAE, we would like to extend our hearty congratulations to His Excellency and the people of UAE. On this extraordinary occasion, we are excited to launch our exclusive and customized collection of watches to honour and express our love for the UAE. This is a momentous occasion because it is the celebration of UAE's 50th UAE National day." said Malou Caluza, CEO of QNET.

Here are the top reasons why you would fall in love with this limited edition watch collection:
It is an embodiment of the history of the emirates
The limited-edition watches are curated to celebrate the remarkable rise of the Emirates since 1971. Minimalistic, timeless, and refined, they speak of the endless journey towards achievements – the spirit of the UAE.
There are only 50 pieces
Commemorating the 50th anniversary of the Arab monarchy, both watch designs come from Bernhard H. Mayer®'s Le Classique collection, which is timeless and suitable for all occasions. With only 50 pieces offered in each design, it is the ultimate collector's item or the perfect gift.

It combines Arabian opulence with Swiss legacy
It is no secret that Swiss watches are a class of their own – if not, the only class that matters. Both limited edition watches are Swiss made, thereby accumulating the knowledge, expertise, and experience of over 400 years into the design.
This national day, celebrate the Year of the 50th with your own commemorative timepiece with the limited-edition watches from the Bernhard H. Mayer® UAE 50th Anniversary Collection.
-Ends-