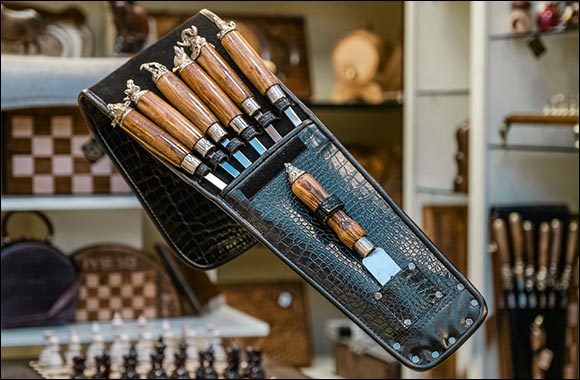 Between decorating, shopping and hosting, there is endless stuff to do during the festive season! Although it's all worth it, the biggest task is finding meaningful and unique gifts for different tastes at affordable prices.
Luckily, Global Village makes shopping fun and easy because it is filled with thoughtful gifts for everyone, all at one place So before you spend endless hours searching for family gifts, browse through our gift guide painstakingly picked just to make festive shopping easier for you this year!
Gifts That Are Sure to Warm Mum's Heart
Your mum has always been there for you, so she deserves to be spoilt every chance you get with a gift that's just as unique as she is. Here are some suggestions to show her just how much you care.
1. Scarves from Kurdistan at Russia Pavilion: Who can say no to an elegant silk or a cozy wool scarf? Whether outdoors in a breezy winter or inside with a cup of tea, your mom is sure to use these scarves in every season.
2. Handmade Coffee Set at Egypt Pavilion: Why not make it a family occasion and gather everyone for coffee, tea or even hot chocolate, serve whatever you like in these beautiful handmade cups?
3. Accessories at Europe Pavilion: Hand-crafted and designed in Spain, these unique scarves or gem-stone jewelry are the perfect gift for mum.
4. Italian Stoneware at Europe Pavilion: A pretty dish is an easy way to add more style (and utility!) to the kitchen.
5. Funky Salad Servers at Lebanon Pavilion: Give the avid cook in your life one of these unique salad servers that they can bring out for every dinner party.
6. Dishes from Uzbekistan at Russia Pavilion: If your mom loves to host, these durable porcelain dishes will withstand steaming hot recipes and classic household favorites.
Gifts for Dad That He's Sure to Love
The festive season is a time when you should really pull out all the stops for the people you love most, including the man who has been there for you since forever.
1. Leather Chess Set from Kazakhstan at Russia Pavilion: What is the best family activity on a weekend evening? Get everyone involved in a thrilling game with a beautiful custom-made chess set that makes the game even more intense.
2. Traditional Arabic Board Games at Syria Pavilion: Oldies but goldies, these board games can be played with kids and adults of different ages and don't get any less enjoyable with time. Turn it into a festive tradition for the whole family!
3. Barbecue Set from Armenia at Russia Pavilion: From your backyard to your kitchen counter, a BBQ set is a useful addition this festive season.
4. Festive Cushions at India Pavilion: Does your Dad love to chill out? Make him comfy with some unusual cushions for his sofa!
5. Family Tree at Europe Pavilion: Get this beautiful personalised wooden crafted family tree for your dad.
Best Gifts for Friends That Celebrate Your One-of-a-Kind Bond
Your friends have been there for you during all of life's highs and lows. Say thank you this festive season with a special gift.
1. Nintendo Game Boy at Japan Pavilion: Get your friends ready for a blast from the past with iconic gaming consoles, Nintendo Game Boy games and rare collectibles for a unique gift that will bring nostalgia and joy.
2. Arabic Sweets at Syria Pavilion: No one can resist the delicious array of Arabic sweets, including Kunafa, Baklava, Ma'amoul, Basbousa, and Kanafeh. This would make a great festival gift for your loved ones and offer sweet temptations!
3. Bath Bombs at Russia Pavilion: These bath bombs are just the best stress busters your friend needs for a self-care ritual at home.
4. Customised Mugs at Americas and Lebanon Pavilion: Sipping on a hot coffee is definitely one of the finer things in life. Show your love with a unique mug that can be personalized according to what your friend loves!
Gifts and Stocking-stuffers Your Kids Will Love
No matter how cool your kids are, you'll find something they'll love at Global Village.
1. K-Pop Collectibles at Korea Pavilion: Your tween always has her finger on the pulse, so obviously, she's been a fan of BTS long before everyone else. Gift her a collectible that she will cherish forever.
2. Anime Socks at Japan Pavilion: With socks this cool, they'll want to wear them all year-round.
3. Plush Hot Water Bottle at Japan Pavilion: Next time the kids are feeling under the weather, they can hug one of these cute plush hot water bottles for instant comfort.
4. PJs at China Pavilion: Cute patterns aside, the lightweight and breathable material makes for a cool and comfortable night's sleep — all 365 days of the year.
5. Fidget Toys at Thailand Pavilion: Pop fidget toys are a major trend this year because kids love trading them, collecting them and popping the bubbles mindlessly. The handy pack comes in poppers of different colors, so your kids can share with their besties.
Gifts for Her (Even if She's the Woman Who Has Everything)
There's no question that the lady in your life deserves the best, no matter what the occasion. But when it's time to find the perfect gift for her, nothing seems as special as she is. But check these gifts out!
1. Slippers from Kyrgyzstan at Russia Pavilion: Cosy slippers are a must have for the festive season, especially when they're this soft and stylish.
2. K-Beauty Products at South Korea Pavilion: If she's always adding the newest, trendiest beauty products to her collection, give her an assortment of Korean skincare to try.
3. Customized Bracelets at Americas Pavilion: Add her initials to this bracelet, spell out an important word, or add initials of other family members (maybe yours?).
4. Art Pieces at Iraq and Syria Pavilion: These paintings will make a stunning addition to any gallery wall or as a standalone piece, and they come in a variety of sizes and themes.
5. Hippo Bowls at Africa Pavilion: Make mealtimes or celebrations extra special by serving your favorite dips and appetizers in gorgeous handmade Hippo bowls. She is bound to love them on her table!
6. Hand-crafted accessories at Lebanon Pavilion: For an extra-special gift, head to the Lebanon Pavilion for beautiful unique pieces from Paco's Creation.
Gifts for Him That Are Perfect for Any Occasion
Even if he's made the bold claim that he already has everything he could ever want, these gifts will make him smile from ear to ear. That's the goal, isn't it?
1. Live Portrait Caricatures: Want a gift that will make him go 'aww'? Take a cute photo of him to one of the live artists at Global Village and they will create a custom portrait, just for him
2. Massagers at China Pavilion: Back and neck massagers that can be adjusted to different intensity levels to take his every day stress away.
3. Perfumes at Kuwait Pavilion: Fragrance has to be one of the most versatile gifts you can buy. It works for pretty much any occasion, and for pretty much any person.
4. Kenkoh Sandals at Japan Pavilion: You won't regret picking these original Japanese massage and reflexology sandals for him that are clinically proven to relieve foot pain and provide arch support.
5. Shoes at Lebanon Pavilion: Best for the days when dress shoes or sneakers don't quite cut it, these cosy-casual sneakers give him the elevated look he wants without sacrificing comfort.
6. Leather wallets at Europe Pavilion: Beautiful Italian designed leather wallets in unusual colours will bring a smile to your man's face every time he uses it.