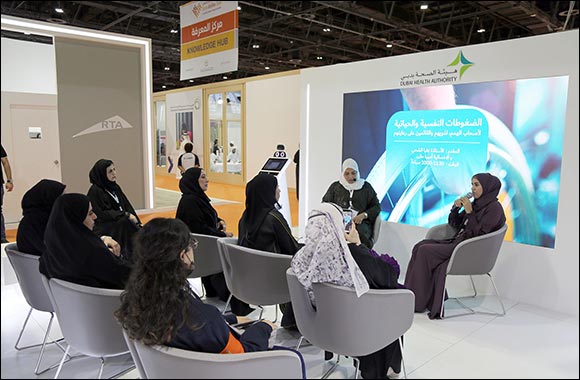 Dubai, United Arab Emirates, November 17, 2022: Dubai Health Authority( DHA) conducted educational workshops and free health examinations at AccessAbilities Expo.
The 4th AccessAbilities Expo, is the largest event for people with disabilities in the Middle East, South Asia and Africa (MENSA) and is taking place at Dubai World Trade Centre under the patronage of H.H. Sheikh Ahmed bin Saeed Al Maktoum, President of Dubai Civil Aviation Authority, Chairman of Dubai Airports and Chairman and Chief Executive of Emirates Airline and Group.
AccessAbilities Expo aims to bring the latest technologies, services and ideas from around the world that public and private sectors in the UAE can adopt to enhance the lives of people of determination. It provides a common platform to meet, learn and collaborate with global peers.
DHA highlighted the medical services available in Dubai for people of determination as well as reinforced its commitment to ensure the provision of the highest quality of comprehensive medical services.
Dr. Hend Al Awadhi, Head of Health Promotion and Education Section at the Dubai Health Authority highlighted the importance of DHA's participation at the AccessAbilities Expo as it presents an opportunity to discuss the latest advances in the field from global experts under one common platform.
She said the DHA conducted various educational workshops during AccessAbilities Expo from psychological care and tips on dealing with caregivers' stress to oral health, nutrition and the importance of regular medical examinations, the DHA covered a wide range of important awareness workshops at the expo.
DHA also announced that there are 2195 licensed healthcare professionals that provide medical services to people of determination.
The 2195 professionals work across 18 medical specialties and are from 81 nationalities.