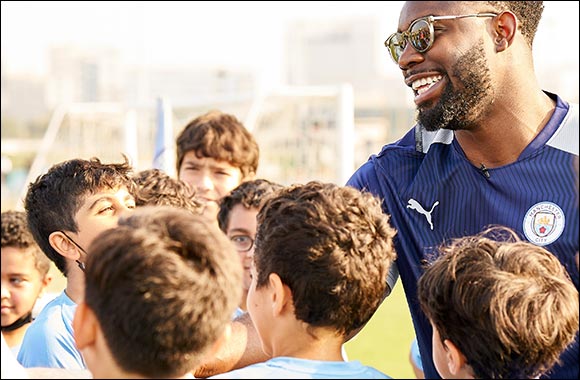 • Ahead of this weekend's Abu Dhabi Grand Prix, the 34-year-old reveals his favourite drivers and last season's title-decider in the Junior Motorsport Book 2022 – a guide for young racing fans which is now available to download
Yas Marina Circuit, Abu Dhabi, UAE, 19 November 2022: Former Manchester City defender Micah Richards has explained why he is a big Formula One fan and says the sport offers a range of key everyday skills that can help benefit young promising drivers in their racing careers.
The 34-year-old is featured in the 2022 edition of the Junior Motorsport Book, now available to download for free, ahead of this weekend's FORMULA 1 ETIHAD AIRWAYS ABU DHABI GRAND PRIX 2022.
The informative e-booklet includes fun facts and figures, team profiles and new faces to watch, and is full of handy tips on kick-starting your racing career through Yas Kartzone or the all-new Yas Heat Racing Academy – which was created especially to nurture and develop young driving talent from the UAE.
Speaking on what young drivers can learn from F1, Richards said: "F1 is a sport where you can learn so much. You've got the driver and the whole team. It's such a team sport. Like when you have to pitstop and you've got to put the tyres on and you're relying on all the team to perform.
"The teamwork and the bonding and the team spirit. Also, a lot of people don't talk about the fact that the drivers are going out there risking their lives for everything and they're in the zone for two hours. One slight mistake can end their race so it's about getting in the zone, team building and focus. Enjoy it as well, you've always got to enjoy it!"
Richards regularly followed the pinnacle motorsport competition but became an avid F1 fan when Netflix's 'Drive to Survive' documentary series was released.
He said: "[The series] got me hooked. I was fortunate to interview Lewis Hamilton for something we were doing for Sky in the UK and when I was working on League of Their Own, I got to meet Max Verstappen and the Red Bull team. It's only been a couple of years but I absolutely love it now. I'm obsessed. The only problem is that it's always on when I'm working so I end up watching highlights and replays which isn't as good, but I love it!"
Richards was among the thousands of visitors who attended last season's title decider at Yas Marina Circuit and compared the duel between Max Verstappen and Lewis Hamilton similar to Manchester City and Manchester United competing for the title.
He said: "I went to Silverstone a couple of weeks ago. That was cool, but Yas Marina Circuit is different! You go there and it's like another world. Last year was like if Man City and Man United were going for the title and it came down to the last game. In F1 it came down to the last race. You can't even write it! And the way it happened was just madness so that's by far the best race. I don't think anything will ever compete with that! I was lucky!"
Speaking on whom his favourite driver is, Richards said: "I love Hamilton just for what he stands for. He's won seven World Championships – it's ridiculous! It's like someone winning seven Premier Leagues, you've got to respect that.
"But I also like Verstappen now. I was never really a Red Bull fan just because they came across a certain way on Drive to Survive but having met them, I like Verstappen. I also like Lando Norris. He's a cool cat."