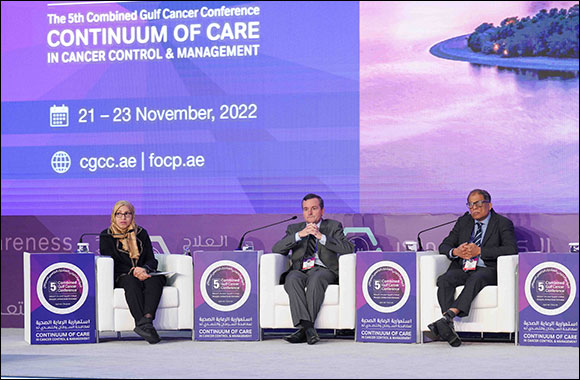 More than 30 per cent of all stored data constitute of medical records, which can be used effectively to initiate cancer control strategies, say panelists at the 5th Combined Global Cancer Conference

Sharjah, November 21, 2021: Sociocultural barriers that shy away people from seeking healthcare attention and the role of media in creating awareness to help early cancer detection and treatment were highlighted today (Monday) at the 5th edition of the Combined Gulf Cancer Conference (CGCC) on Monday, at Al Jawaher Centre for Receptions and Conferences in Sharjah.
The early session on the first day of the conference addressed the roadblocks affecting the region in championing cancer through screening, early detection, treatment and reintegration to society. The power of media in bringing more awareness among the public, particularly the youth, was discussed by health care professionals at a second session. Numerous plenary sessions and an exhibition are also being held as part of the CGCC conference that runs until November 23.
Cancer Awareness and Prevention: A Cornerstone of Cancer Care Continuum
Experts shared their viewpoints on cultural and socioeconomic challenges that act as barriers to cancer awareness and prevention during the first track of discussions at the CGCC conference. In her keynote speech, titled 'Barriers in Seeking Medical Advice in the Community', Dr. Aysha Al Dhaheri, Head of Health Promotion Sector (ADPHC) – UAE, said: Income is often the most common factor globally that acts as a hindrance in seeking preventive healthcare. Stigma and misconceptions also make people wait too long before screening themselves for any kind of diseases which is why health literacy is increasingly becoming a necessity."
Dr. Anil D'Cruz, Past President of UICC – India, said understanding the relative contribution of modifiable risk factors to cancer burden and their trends over time is crucial to informing cancer control efforts both locally and globally. "Health data constitutes 30 percent of all data stored by humanity. This data is key to cancer control to analyse and understand the size of the problem for national and international organisations and governments. Improving the quality of data using better assessments will help policymakers come up with customised national cancer control programmes that will help monitor and evaluate its effectiveness with time.
Talking about her research targeting cancer stem cells, Dr. Swee T Tan, Gillies McIndoe Research Institute – New Zealand, said: "Cancer is the leading cause of death worldwide, with huge human and economic costs. It affects one in three people and comprise 31 per cent of all deaths. The current research on cancer stem cells by modulation of the Renin-angiotensin System looks promising with patients responding positively and their quality of life well preserved.
Evidence-based interventions are a must to remove barriers and increase participation of the public in screening programmes, said Dr. Andre Carvalho, Scientist, Early Detection, Prevention & Infections Branch (IARC) - France. "Screening programmes usually rely on systematic reviews of evidence-based interventions. However, the framework of barriers to effective cancer screening pathways include availability, affordability, acceptability, quality assurance, governance among many others," he said.
Communication Driving Regional and Global Cancer Awareness
The second session of the CGCC conference discussed the role and impact of traditional and social media in generating more awareness on early screening and cancer prevention.
Dr. Fiona Ness, General Manager of Communications, Engagement & Information Development, National Screening Service – Ireland, shared her insights on the role of media in effective communication to deliver impactful messages and how it helps mobilise to address the current barriers prevailing in the society.
Dr. Iffat ElBarazi, Professor and Medical Research Specialist - Public Health Institute (UAEU) – UAE, added on how social media and mobile health technology are acting as tools in promoting best practices and creating health awareness through edutainment activities.
Dr. Navid Madani, Senior Scientist, Dana-Farber Cancer Institute - USA, shed light on the influence of media in cancer education and prevention.
Importance of doctor-patient communication was highlighted by Dr. Nehad Kazim Albastaki, Senior Consultant Breast Radiologist, Mediclinic Airport Road Hospital, Abu Dhabi - UAE, while talking about specific scenarios in detecting breast cancer in particular.
Clement Chauvet, Head of Strategic Engagement and External Relations (IARC) – France, said mass media campaigns are creating effective engagement opportunities to increase knowledge and awareness about cancer and other diseases.
Meanwhile, Ghazi Alobaid, Cancer Prevention Program and Campaigns, Al-Ahsa Cancer Foundation - KSA, gave an overview on media strategies shaping cancer behaviours in the Gulf region.
On the sidelines of the CGCC conference, perceptions of the youth in the continuum of care in cancer control and management was discussed during a session moderated by Eman Al Shamsi, Al Qassimi Hospital. In addition, an art therapy workshop to improve mental health and emotional wellbeing was hosted by certified art therapist Dr Manal Elewah, WHO Egypt Representative of GICC.
Themed "The Continuum Care for Better Cancer Control and Management", the three-day conference is organised by the Friends of Cancer Patients (FOCP) in collaboration with the Gulf Federation for Cancer Control and the Gulf Centre for Cancer Control and Prevention (GCCCP).
The conference is aimed at combining and mobilising GCC efforts to develop and improve the quality of healthcare for cancer patients and raise awareness about the best practices followed throughout all the stages in the fight against cancer.
Six unique topics are on schedule during the event for healthcare professionals and policymakers to engage and formulate solutions to curb the disease.