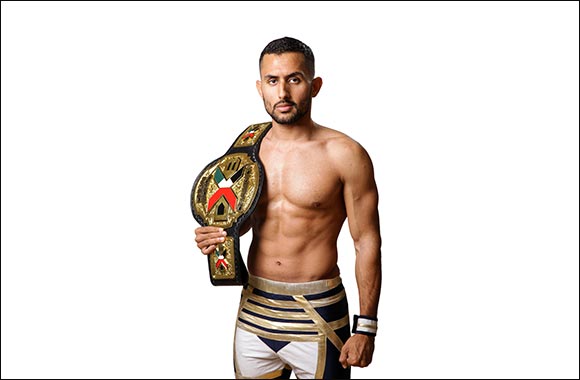 Dubai, UAE – 28 November 2022: Shaheen, the first Emirati wrestler to perform outside the UAE, says PROGRESS Wrestling's presence in Dubai is set to make a huge difference on the growth of the local wrestling scene.

Shaheen's professional wrestling career kicked off in 2019 in the UK, where he trained and performed on a card before being recruited by WWE for their tryouts in Saudi Arabia. Although they were unfortunately canceled due to the Covid-19 pandemic, that only invigorated him to push ahead and help drive the wrestling scene in Dubai.

Now, he is set to perform on the card of one of the world's leading independent organizations, PPROGRESS Wrestling, as their Sons & Daughters of the Desert show comes to Dubai on December 10. While PROGRESS is based out of the UK, the wrestling program has acquired a global audience from its partnership with WWE, which sees shows available to millions of fans worldwide on the WWE Network.

Speaking of his desire to grow the local scene following his tryout disappointment, Shaheen said: "It made me hungrier to start something over here, and I really got passionate about it. I was going to the academy show we had in Dubai, and it was mainly friends and families of wrestlers, with a maximum of 20 people present. That was a bit upsetting because I was putting my body on the line, training non-stop, and I needed more eyes on the product, and that's when we created WrestleFest DXB."

Wrestlefest DXB has been putting on shows in Dubai monthly since March this year, with a passionate crowd of around 200 fans at the events.
PROGRESS is partnering with Wrestlefest for the show next month, much to the delight long-time fan Shaheen. "For Progress to notice us is a badge of honour," he said. "They see what we do, and it is extremely rewarding. I have been watching Progress for the last few years, and a lot of my favourite wrestlers come out of Progress, and that's where I study a lot of matches. I mainly get the WWE Network to watch Progress! I can't put it into words to be able to perform on the show who made me what I am today."

He hopes the show next month will help get more eyes on the Dubai wrestling scene, and also give local talent, like himself, a platform to start building a global fanbase.
"It will put more eyes on the local scene and that's why we wanted the partnership with Wrestlefest DXB," he said. "Another thing is being able to highlight the local talent which will be featured. If you look back in history, there is hardly any mention of a wrestler out of Dubai. Even from the Middle East, there are very few. We need a person the fans can identify with, and I want to be that person."
You can see Shaheen in action on Sons & Daughters of the Desert which will take place on Saturday 10th December, at Warehouse Four, Al Quoz, Dubai. Tickets are on sale at Virgin Tickets and in Virgin Stores across the UAE.