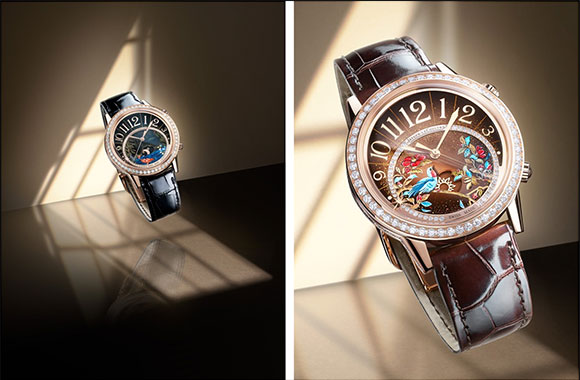 JAEGER-LECOULTRE ENRICHES THE RENDEZ-VOUS SONATINA
'PEACEFUL NATURE' SERIES WITH A NEW TRILOGY OF TIMEPIECES
• A joyful ode to nature, deeply imbued with traditional Oriental symbolism and showcasing some of the timeless crafts of Jaeger-LeCoultre Métiers Rares® atelier: lacquer work, miniature-painting and gem-setting
• Uniting the artistic traditions and craft skills of East and West, intricately decorated dials and highly sophisticated mechanisms celebrate femininity in refined and timeless style.
Inspired by Asia's centuries-long artistic tradition of depicting the natural world, Jaeger-LeCoultre enriches the Rendez-Vous Sonatina 'Peaceful Nature' series with three new timepieces. An exquisitely feminine expression of time that celebrates both precision and artistry, the new trilogy unites Eastern and Western artistic traditions and links the richness of rare decorative crafts with the technical sophistication of high watchmaking.
As a joyful ode to nature and its special place in the Asian artistic tradition, the new Rendez-Vous Sonatina trilogy calls upon three of the decorative crafts that Jaeger-LeCoultre has so thoroughly mastered in its Métiers Rares® (Rare Handcrafts™) atelier: miniature-painting, lacquer work and gem-setting.