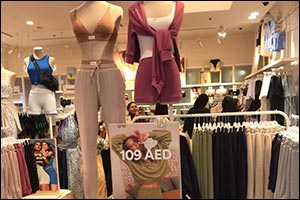 Dubai, United Arab Emirates: Australian Active & Lounge wear brand for women, Cotton On: Body opened its store at The Nakheel Mall on The Palm Jumeirah on Tuesday, 29th November.
With the brand's first two stores in Deira City Centre and Ibn Battuta Mall, the women's lifestyle brand has now expanded to Nakheel Mall, The Palm.

Designed for women Cotton On: BODY's global fashion-led range includes activewear, intimates, sleepwear, loungewear and swimwear.
To celebrate the launch of its third outlet just in time for the Christmas and Winter season, Cotton On: Body is launching a new collection of comfortable yet cozy loungewear and sleepwear along with Christmas-y sleepers and Pyjamas sets.
From fabrics to silhouettes, BODY range of products effortlessly combine style with comfort and quality.
The store launched in the presence of Yasser Sharaf, Vice President (Retail, Hospitality, Industry and financial services) of Sharaf Group.
Commenting on the store launch, Yasser Sharaf Group said, "Sharaf Group is striving hard to offer the best shopping experience to everyone in the region. Our goal is to nurture our long-standing relationship with Middle Eastern audiences by expanding our presence across the region and elevating the brand experience across an Omni channel ecosystem that encompasses retail stores, eCommerce and social media."

About Cotton On: BODY
Cotton on Body empowers women to live the life they want, to show up for themselves and each other, every single day. Inspiring them to move their body, take time for self-care, and embrace their authenticity. Designed for women, by women, our global fashion-led range includes activewear, intimates, sleepwear, loungewear and swimwear. We're obsessed with comfort from fabrics to silhouettes, because when you feel good in what you wear, it shows.

There are 3 BODY stores situated in Dubai, located in Deira City Centre, Ibn Battuta and our most recent opening at Nakheel Mall, The Palm.
About Sharaf Group
Sharaf Group is a highly diversified business conglomerate with operations in the areas of Shipping, Logistics, Supply Chain, Retail, Travel & Tourism, Information Technology, Financial Services, Hospitality & Real Estate, Education and Manufacturing. The Group is headquartered in Dubai.