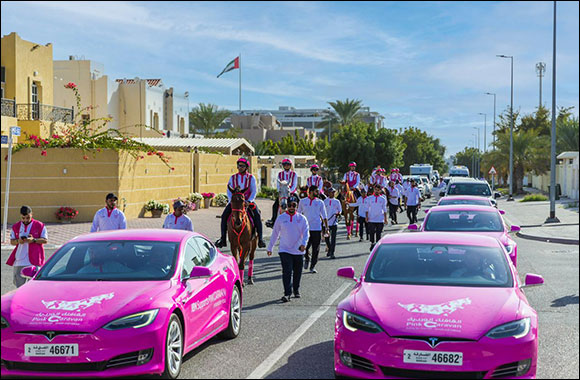 Volunteering equestrians led by PCR Special Envoy Sheikh Fahim Al Qasimi welcomed by Sheikh Abdullah bin Majid Al Nuaimi to raise public awareness across Ajman

Sharjah, February 05, 2023: The resounding response to the 11th edition of the UAE's leading breast cancer awareness campaign, Pink Caravan Ride, yesterday (Saturday) with the Higher Steering Committee announcing a total of 8,775 free screenings already conducted nationwide, is a testament to the lasting impact of this community welfare initiative established over a decade ago.
Of the 8,775 screenings, 8,467 were carried out in the fixed clinics across the nation, which started welcoming citizens and residents, both women and men, on January 20. On the inaugural day of campaigning across Sharjah and Ajman, a total of 308 free screenings were carried out at Pink Caravan Mammogram Units.
Aptly themed 'Powered by You' as a reflection of the power and energy that the Pink Caravan Ride derives from each and every person in the UAE community as it makes strides towards mass awareness while offering free breast cancer screenings, and organised by the Friends Of Cancer Patients (FOCP) the inaugural day of the current edition of the ride set off from the Thumbay Hospital in Al Jurf and was led by Sheikh Fahim Al Qasimi, PCR Special Envoy.
The pink champions of hope on their horses captivated scores of residents and passers-by on their journey, who cheered them on as they mapped 4.2 kilometres passing through the Al Zorah Golf Course, Ajman to triumphantly conclude the first day's march at the Al Zorah Marina, Ajman where the PC Mammogram Unit was stationed for the day. In Ajman, the pink envoy received a warm welcome from Sheikh Abdullah bin Majid Al Nuaimi, Director General of Citizens Affairs Office.
Until February 10, free breast screenings and checkups will continue to be offered to both women and men at the popular China Mall in Ajman.
Catch the Pink Caravan Ride in Dubai today!
Today (Sunday), the Pink campaigners are trotting across Dubai's popular neighbourhoods including DIFC Gate Avenue, Marasi Drive, Skydive Dubai, JBR, and City Walk to engage and sensitise the community here. Moreover, the state-of-the-art Pink Caravan Mobile Medical Clinic equipped to offer mammograms on the go is stationed in La Mer and will remain there until 10:00 pm, while the temporary walk-in clinics available only today are set up at City Walk and Dubai Frame. The fixed clinics, which will continue to offer expert consultations and checkups for a longer duration in Dubai, are situated at the Lulu Hypermarket's Al Barsha branch as well as Mirdif City Center.
Day 3 of PCR: At a glance
Tomorrow (February 6), PCR will return to Sharjah with the riders starting at BEEAH Group at 8am, from where they will make an onwards journey to Sharjah Media City (SHAMS), Sharjah TV, Al Jada, and Sharjah University City Arena, and finally conclude the day of campaigning at the University Hospital around 4:30pm. PC Mammogram Unit will be offering mammograms and other medical services at the Sharjah TV offices, alongside temporary walk-in clinics set up at the Air Arabia Aone building, Sharjah and Al Qasimiya University, Sharjah. The fixed clinics in the emirate can be accessed until February 10 at the Al Majaz Waterfront, Mega Mall, Lulu Hypermarket Al Butina, and Lulu Central Sharjah.