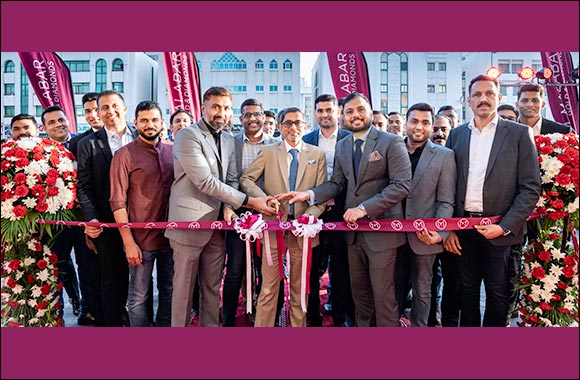 February 07, 2023: Malabar Gold & Diamonds, the 6th largest jewellery retailer globally with a strong retail network of over 300 showrooms across 10 countries, launched its renovated and expanded showroom in Shabiya, Mussafah. The showroom was jointly inaugurated by Mr. Shamlal Ahamed, Managing Director – International Operations; Malabar Gold & Diamonds; Mr. Abdul Salam KP, Vice Chairman, Malabar Group and Mr. Ameer CMC, Director - Finance & Admin; in the presence of
Mr. Ranjith KV, Regional Head, Malabar Gold & Diamonds; Mr. Nijas EM, Zonal Head, Malabar Gold & Diamonds, other team members, well-wishers and dignitaries. The renovated showroom in Shabiya, Mussafah is expected to provide customers with a superior and world-class jewellery shopping experience in terms of the availability of the latest and most fashionable jewellery along with outstanding customer service.
The showroom offers a great ambience and brilliant designs crafted in 916 hallmarked gold, diamonds and precious gem jewellery. The brand has also made efforts to add exclusive collections across each of its sub-brands, including Mine, Viraaz, Era, Precia, Ethnix, Divine, and Starlet.
Malabar Gold & Diamonds currently has 16 outlets across Abu Dhabi Emirate and has plans to open more showrooms in the UAE, this year in Dubai and Sharjah. The brand has an ambitious expansion plan and will soon begin operations in new markets including the UK, Bangladesh, Australia, Egypt, Canada, Turkey, and South Africa.
Malabar Gold & Diamonds is renowned globally for offering an unparalleled jewellery buying experience with convenience, and customer-friendly policies along with the 'Malabar Promise' of incomparable quality and service assurance. Malabar Promise includes assured lifetime maintenance from any of its 300+ showrooms across 10 countries, guaranteed buyback, IGI and GIA-certified diamonds ensuring 28-point quality check of global standards, zero deduction gold exchange, complete transparency, 916 hallmarked pure gold, responsible sourcing, fair price policy and fair labour practices.

Malabar Group believes that the most successful companies are those which integrate responsibility and sustainability into their core business and commit 5% of their profit to support socially responsible purposes both in India and abroad, since its inception in 1993. Hunger, Health, Education, Women Empowerment, Housing and Environment are the key focus areas for the Group.