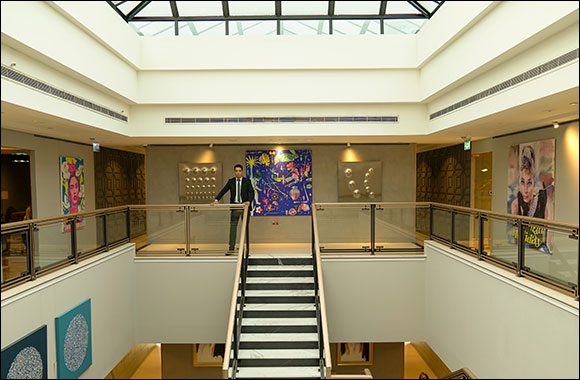 It is an institution. It is the voice of business. 15 years and growing strong.
Dubai, UAE, 7 March 2023: Capital Club Dubai will be celebrating its 15th anniversary on 17 March 2023 as the region's sole private business club. This remarkable milestone is a testament to the club's commitment to providing its members with exceptional services, experiences, and networking opportunities over the years. Supported by prestigious names such as Rocco Forte Hotels, Citi, and IRAM Jewelry, the 15th-anniversary celebration symbolizes the Club's unwavering dedication to its members.

In its first year, the Club had 200 members and a handful of employees. Today, with more than 1,200 members and 100 employees, the Club has demonstrated a significant expansion. The journey has been accompanied by some major changes since the Chairman and Majority shareholder Hussain Sultan Al Junaidy took the helm in 2019. A spectacular redesign of the Club's interiors, an overhaul of its website, introduction of a Capital Club App, expansion of the Club's reciprocal network agreements to over 250 Clubs worldwide and many new technological features that greatly enhance member experiences.

Despite this impressive growth, its 15-year history has not been without obstacles, and the Club had to navigate through extremely challenging times when it appeared it would not survive. However, due to the collective resilience and perseverance of the team along with the Chairman, the Club not only overcame but thrived.
As it commemorates its 15th anniversary, the Club looks to the future with ambitious plans. It envisions the next fifteen years to bring forth more immersive and interactive experiences, state-of-the-art equipment, an even greater emphasis on collaborations and networks to help members develop their businesses, grow affiliations, reciprocal arrangements, public private partnerships, and many other distinct offerings.

According to the Chairman of the Capital Club Dubai, a private members club is successful when its members share a sense of belonging and growth. "We would like to recognise many members and employees who have been with us from the beginning, for their longstanding support and loyalty. Our vision for the future is to continue providing an environment in which everyone can flourish personally and professionally."

The Club's General Manager, Mohamed Karmaoui commented, ''We are immensely proud of the Club's achievements under the leadership of Chairman Hussain Sultan Al Junaidy. Our members are industry thought leaders and our most valued asset. We look forward to evolving and developing alongside them for many years to come.'
Members, Diplomats, and Government Committee representatives have also praised the Club for its contribution to the Dubai's business community. One member commented, 'The Capital Club has been a great place to network with other business professionals and discover new opportunities.' And another added, that through his networking activities at the club, he was able to secure multiple contracts for his company. "It truly is the voice of business in this city."