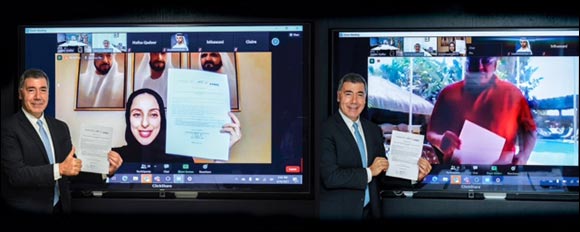 • KPMG Lower Gulf's mission to empower People of Determination, becomes an official sponsor of the Special Olympics UAE Unified Robotics program and commits to support Special Olympics athlete leaders in the region.
Dubai, United Arab Emirates, 5 May 2021: Special Olympics Middle East/North Africa (MENA), KPMG Lower Gulf and Special Olympics UAE have unveiled a year-round partnership which deepens the reach and impact of several programs and initiatives for Special Olympics UAE, and Special Olympics MENA
With this partnership, KPMG Lower Gulf will offer support to the Special Olympics Middle East/North Africa Regional Athlete Leadership Input Council (RALIC), built to create opportunities for athletes to develop and demonstrate their abilities in leadership roles. In addition, the firm will also provide consultancy and advisory support from 300 team members, experts, and executives to scale the movement of inclusion in the region.
With this partnership, KPMG Lower Gulf is now an official sponsor of the Special Olympics Unified Robotics program, the largest STEM (science, technology, engineering, and mathematics)-based program for neurodiverse students in the MENA region, helping to create valuable opportunities to engage students of all abilities in STEM, coding and robotics.
During 2021, KPMG Lower Gulf will contribute to three key task forces: a unified robotics task force to maximize engagement, reach and impact of the program across UAE schools; a dedicated task force to provide end-to-end support for virtual RALIC meetings; and a specialized task force to produce an impact report with Special Olympics UAE about people of determination and their families.
Nader Haffar, Chairman and CEO of KPMG Lower Gulf said: "We are enthusiastic about supporting the athletes and continuing our partnership with Special Olympics, which we started in 2019. We, at KPMG, have a clear purpose—to inspire confidence and empower change. We believe in an inclusive world, no matter where an individual may work or live, and diversity is embraced. Together we respect each other and draw strength from our differences, as we seek to build a better society for all."
Ayman Abdel Wahab, President and Managing Director, Special Olympics Middle East/North Africa, said: It gives me great pride to know that partners who joined us through the Special Olympics World Games in 2019 in Abu Dhabi, are here with us today to continue the legacy of the most Unified Games in the history of Special Olympics. I strongly believe that with Special Olympics UAE being one of our active 22 programs in the region, and with the expertise of the passionate people at KPMG Lower Gulf, we will be able to impact the most critical, humanitarian mission of our time: inclusion of people with intellectual disabilities. The Special Olympics World Games Abu Dhabi 2019 brought the UAE community together. It showed the government's commitment to empowering people of determination with intellectual disabilities to participate in sports, contribute to society and follow their dreams.
Following the 2019 World Games, a myriad of strategies and initiatives supporting the empowerment and wellbeing of people of determination were launched. Special Olympics UAE continued creating valuable sports opportunities and programs to further the participation of People of Determination with intellectual disabilities across sports, arts and education. The aim is to foster a healthy, nurturing and supportive environment. This momentum continued in 2020 and 2021 with multiple virtual-program launches in the wake of the Covid-19 pandemic, as well as limited in-person programs, in line with government guidelines and regulations.
Talal Al Hashemi, National Director of Special Olympics UAE, said: 'Special Olympics UAE works with all stakeholders to advance and diversify growth opportunities for our athletes. Forming effective partnerships with the private sector is key to this strategy and directly links to maximizing resources and funding that enhance our ability to increase access to sports and amplify impact for Special Olympics UAE athletes. Experience shows that much can be gained from partnering with visionary and influential companies such as KPMG, and we are delighted to be collaborating with a business that wants to make a difference and accomplish shared goals.'
James Babb, KPMG Head of Clients & Markets and Impact Champion, said: "We are honored to partner with Special Olympics MENA and Special Olympics UAE to provide pro-bono services to the athletes. This partnership is a continuation of our collaboration at the Special Olympics World Games Abu Dhabi 2019. It exemplifies KPMG's dedication to ensuring the inclusion of People of Determination in sports and society, in line with the United Nation's Sustainable Development Goal Ten: Reduced Inequalities."