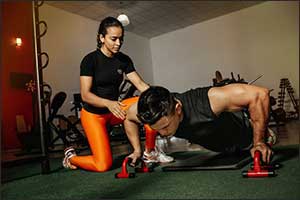 Having a well-thought-out workout routine that makes you feel proud and like you're tackling a healthy lifestyle is a goal for many. Unfortunately, for many, it remains just that, an unfulfilled goal. This, of course, doesn't need to be your case. If you've always wanted to be a fit, healthy, and active person, why not just begin? No more waiting for Mondays, the firsts of every month or New Year's Eve to start with this resolution. Simply get up and make the first move. If you're not someone who's very easily motivated, hiring a personal trainer in Dubai might be just the thing for you. Here are
ways in which to approach finding one
as well as some other pieces of advice that might come in handy on your journey.
Do you need a personal trainer in Dubai?
If you're not yet convinced that having a personal trainer in your city is necessary, we're here to tell you that it isn't. This is 100% luxury. However, although no one should be able to sell you a story of what a necessity personal trainers are, you should know all the advantages that come along with having a person that's your own cheerleader. Having someone by your side to push you toward your goals is great. Make sure that this person is very well versed and educated on the subject since that'll make a huge difference in the way you'll come to perceive your fitness journey.
Whether you've received a useful coupon for a gym membership or are simply wondering about what having a personal trainer in the city of Dubai would be like, you need to give the subject some further thought. You shouldn't make this decision too hastily. Nonetheless, whatever your decision turns out to be, know that you can always go back to it.
Working out with a personal trainer can make your life in Dubai far more interesting. Make sure to find someone who's willing to offer a fun approach.
A man working out outside with a personal trainer.
What to look for in your future Dubai personal trainer
There are certainly some characteristics that would be favorable to have in your trainer in Dubai. This shouldn't be too easy to find since Dubai offers top experts in this field.
Knowledge
Flexibility and openness
A friendly and pleasant approach
An ability to make workouts fun
Availability
A good price-quality ratio
How and where to find your future personal trainer
Since you live in Dubai, it really shouldn't be too hard to find a personal trainer. However, finding a good one is something you should strive towards. Don't settle for just any person that seems to somewhat know what they're doing. Nowadays, there are a lot of scams and nearly anyone with a good internet connection can claim to be an expert in this field.
This is precisely why you should take some time when looking for a personal instructor in Dubai. Take the time to scroll through the web and really thoroughly go over all the reviews. The people that leave these are usually telling the truth since they've nothing to gain by lying. However, so as to avoid any scams, make sure that the page whose reviews you're relying on has plenty of diverse comments rather than a few excellent ones.
Working out at home vs at the gym
Of course, you can always try DIY-ing. There's certainly enough material out there for any layperson could make some sense of it and organize an amateur workout routine. This, as you're probably already aware, won't be the same as having a personal Dubai trainer. To sum up, if you're looking to be motivated and get to your fitness goals faster, hiring a personal coach in Dubai is a great decision. However, if you simply want to move and stay active, you can go for a run, a swim, or follow any simple yoga routine and do this from the comfort of your own home.
Opting for practicing yoga or some other enjoyable activity in your home is an appropriate option if you're looking to stay active and healthy.
A girl practicing yoga in her home.
What to do to maximize the benefits of training
A great piece of advice is to adjust the rest of your habits in order to really get the most out of your training with a personal coach in Dubai. You can, first and foremost, make sure that your diet is healthy and varied. This doesn't mean that it needs to be perfect. Taking the 80-20 approach and letting yourself breathe and indulge every once in a while is proven to be more effective than restraining yourself.
Aside from eating healthily, make sure to enjoy some other activities. Taking long walks and being active in any enjoyable way such as dancing shows the best results. If you're, however, somewhat of an adrenaline junkie, you should go explore the adventurous sides of Dubai.
Be open and honest with your trainer (and with yourself)
Make sure that, whatever you choose to do to feel fit and healthy, you don't overdo it. One of the best ways to achieve this is by constantly staying aware of your abilities and asking your personal trainer in Dubai anything that piques your interest. Staying conscious of how your activities affect your body and mind and adjusting them accordingly is a great way to stay interested in what you're doing. If you're working alongside your Dubai Personal Trainers and not passively obeying every directive, you'll feel far more comfortable.
Having a good relationship with your trainer should be a priority.
Two people training in a gym.
Avoid common mistakes
Here are some common mistakes people make in regards to finding and working with a Dubai personal trainer:
Not doing enough research before hiring your personal instructor in Dubai
Make sure to check the credentials of your future personal trainer in Dubai before hiring them.
Overworking yourself
Don't do more than you're comfortable with, it'll only make you feel unequipped and demotivate you.
Paying either too much or too little for the service
Know that a more expensive service surely doesn't have to get you better results. Always look for a company that falls into the golden mean.
Malnourishing your body
You need to eat well to be able to exercise well. Luckily, there's plenty of great dining places all over Dubai. This makes it easy for even the busiest of people to enjoy a healthy and balanced diet.
Thinking there are some magical solution and shortcuts
If you've hired a personal trainer in Dubai, your job doesn't merely end there. You need to come to every workout ready to give your maximum. It's the only way to excel.
https://unsplash.com/photos/IKAO7n6aMX4
https://unsplash.com/photos/R0y_bEUjiOM
https://unsplash.com/photos/nlZTjUZX2qo
https://unsplash.com/photos/MCP9atiDcAk
Alt feature: A man training with his Dubai personal trainer.
Meta: If you're thinking of getting a personal trainer in Dubai, gather enough information before making the decision. Here's some advice.