As part of the initiative, two complimentary virtual sessions with kidney recipients, donors, and transplant surgeons will be organized to raise awareness on kidney health and the importance of organ donation to save the lives of people battling with serious kidney conditions
The initiative, a collaboration between five entities in Dubai, will look to draw attention to transplantation services in the UAE and the role of local and national health authorities in encouraging organ donation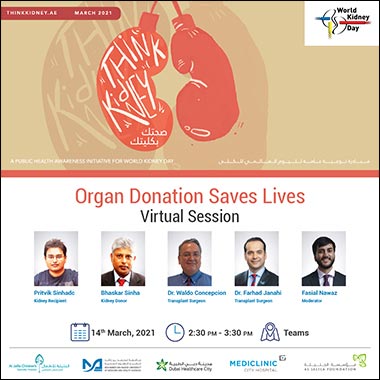 Dubai, March 13, 2021: Mohammed Bin Rashid University of Medicine and Health Sciences (MBRU) in collaboration with Al Jalila Children's Specialty Hospital (AJCH), Mediclinic City Hospital, Dubai Healthcare City (DHCC), and Al Jalila Foundation will organize two complimentary virtual sessions focusing on kidney disease, organ donation, and transplantation as part of its 'Think Kidney' campaign launched on the occasion of World Kidney Day, celebrated globally on March 11. The first session will be held on March 14 from 2:30 PM to 3:30 PM while the second session will be organized from 1:00 PM to 2:00 PM on March 16.
Pritvik Sinhadc, Dubai's first recipient of a pediatric kidney transplant from a live donor, will be part of the inaugural session and will be joined by his father Bhaskar who donated his kidney to his son. The two transplant surgeons who performed the transplantation will be part of the panel: Dr. Waldo Concepcion, Head of Al Jalila Children's Organ Transplant Center, and Dr. Farhad Janahi, Consultant Urologist at Mediclinic City Hospital & Assistant Professor of Surgery at MBRU. The session will be moderated by Faisal Nawaz, a fifth-year medical student at MBRU. Pritvik and his father along with the two doctors will share their experience on the transplant procedure, donation experience, and the significant improvement in Pritvik's quality of life since the success of the procedure.
The second session on March 16 will be conducted in Arabic and will have Dr. Ali Al Obaidli, Chair of the National Transplant Committee in the UAE, Hind Al Muhairi who has benefitted from a transplanted kidney donated by her brother, Ali Al Muhairi who will also join the panel. The session will be moderated by noted media personality and news anchor Mohammed Salem Saif.
The month-long 'Think Kidney' initiative launched on March 1st is of particular importance to the UAE where over 4,500 patients are reported to be suffering from kidney failure.
As part of its mission to advance health in the UAE and the region and provide impactful medical solutions to the community, MBRU has taken a leading role in promoting kidney health and raising awareness on various treatment options available for kidney diseases.
The University also runs the MBRU Organ Transplant Program, established in June 2016, that has developed a comprehensive framework for organ transplantation in Dubai through various public and private partnerships, to meet the growing demand in the UAE. Over the years, MBRU has further refined the Organ Transplant Program through the National Survey on Organ Donation and Transplant, organizing the first UAE Organ Transplant Summit, and the inaugural UAE Organ Donation Forum. The Program has successfully conducted 21 transplant surgeries until today.