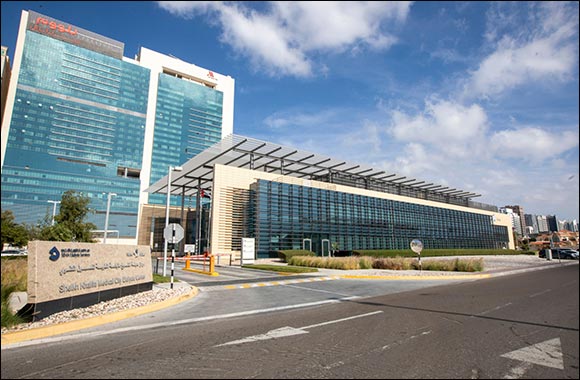 Through a series of virtual, community-wide initiatives, events, and activities, SKC is raising awareness around kidney disease
Abu Dhabi, March 13, 2021: SEHA Kidney Care (SKC), a facility that falls under Abu Dhabi Health Services Company, (SEHA), the UAE's largest healthcare network, organized a series of virtual activities, events and lectures in efforts to raise awareness about the effective management of symptoms of kidney disease. This comes in accordance with World Kidney Day, celebrated annually on March 11. This year's theme is 'Living Well with Kidney Disease.'
Dr. Stephen Holt, Professor Director and Chief Executive Officer, SEHA Kidney Care, said: "World Kidney Day is the perfect opportunity to remind ourselves how important it is to take care of our kidneys, staying away from things that might harm this very important organ, and avoiding things that may potentially lead to kidney problems."
SKC provides world class healthcare to kidney patients, keeping the patient at the core of all initiatives and activities. SKC is equipped with medical and technical expertise, internationally accredited teams, and the latest in advanced technologies, all of which contribute to achieving our mission of improving the overall patient experience and aiming to provide best-in-class care to meet the community's need.
"On this day, we are hoping to raise awareness about the risks associated with kidney disease, how to ensure an early diagnosis and the different treatment approaches available. We continue to invest in research and development, teams, and resources with the objective of providing excellent healthcare to Abu Dhabi's people," added Dr. Holt.
"Among the most prominent community-wide initiatives organized by SKC is the Walking Challenge, which encourages members of society to walk an average of 10,000 steps every day – an important precautionary measure to avoiding kidney disease and an integral part of leading a healthy lifestyle.
SKC will also soon launch its new website, which includes a comprehensive bank of information about kidneys and how to protect them for the wider community, and specialized content to help those with kidney disease to manage their treatment journey. In addition, SKC partnered with Kidney Education Foundation to introduce an awareness booklet, titled 'Save Your Kidney' and available in 37 languages, with extensive information about kidneys with tips on how to take care of them and it's distributed free to our visitors.
In collaboration with the Emirates News Agency (WAM), SKC also presented two awareness lectures. The first lecture focused on healthy nutrition and was presented by nutritionist Khawla Al Suwaidi on the importance of adopting a healthy lifestyle in order to preserve the kidneys. Her key pieces of advice to listeners was to monitor food schedules ensuring nutritious meals, sleep adequately, and exercise sufficiently to keep the body protected from diseases.
The second lecture revolved around kidney failure and its prevention and was presented by Dr. Ayman Kamal Al Madani. Dr. Madani stated that kidney failure has become more prominent recently. Throughout the lecture, Dr. Madani stressed the importance of early diagnosis, to ensure treatment can be started before kidney function worsens.
Among the most prominent causes of kidney failure are diabetes, high blood pressure, the presence of kidney stones, exposure to carcinomas which affect the urinary bladder, and taking certain medications that affect the kidney function," said Dr. Madani.
The lecturer also referred to the symptoms of kidney failure, stating them as abnormal vomiting and nausea, inability to eat and loss of appetite, general feelings of weakness and fatigue, severe muscle contraction, decreased urine output, irregular sleep patterns, and itching.
Earlier this month, SKC organized a webinar on "Paired Kidney Donation from Theory to Implementation: Local, Regional and International Perspectives," where world renowned speakers from Saudi Arabia, Oman, UAE, USA, and India presented a broad range of lectures, sharing knowledge, expertise, experiences, and best practice to address innovative solutions to increase kidney transplants for kidney failure patients. The webinar was attended by over 1,800 participants from more than 32 countries.
SKC provides quality healthcare that meets and exceeds international standards to over 1,200 dialysis patients and completed nearly 180,000 dialysis sessions last year. In addition to providing advanced diagnostics and treatments to patients, SKC is committed to providing kidney transplant options where possible. Recently, SEHA and MAAN, the authority of social contribution, announced their mission to fund raise AED 5 million with the support of corporations and the public to support kidney disease and transplantation services.
During the COVID-19 pandemic, SKC continues to ensure the safety of patients and its medical teams who must be physically present for kidney dialysis. Patients with kidney disease have been offered vaccination and those who have been affected have benefitted from special isolation facilities to allow them to recover at home whilst continuing their treatment. In addition, more than 97% of SKC's staff have been vaccinated, ensuring that patients and staff are kept as safe as possible.