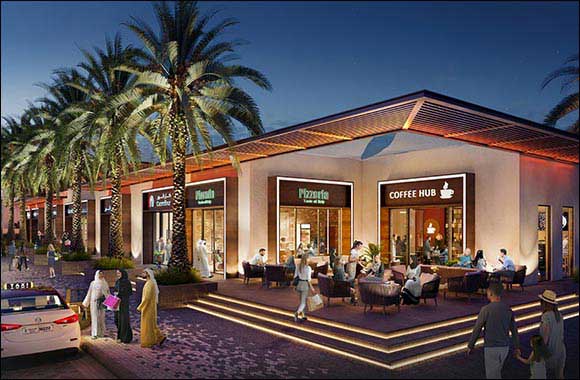 · The retail leader brings effortless convenience to residents across the community
· Construction began in Q4 2020, with Carrefour set to open in Q3 2021
· The partnership emphasises the value gained from Majid Al Futtaim's diverse ecosystem of retail and entertainment options
Sharjah, UAE, 7 April 2021: Al Zahia — Sharjah's premier lifestyle destination — has announced that Carrefour, operated by Majid Al Futtaim in the UAE, will be the first anchor store to open at the community's North Hub— a retail destination bringing key stores to the community residents. The store is set to open by the third quarter of 2021, as the construction started in the fourth quarter of 2020.
North Hub will span over 1000m2 and to host the Carrefour store with other key retailers. North Hub will be easily accessible to Al Zahia residents. The anchor Carrefour store will comprise a space of 522m2 and will offer great value deals on everyday essentials, fresh food, electronics, textiles and much more. With additional outlets to be unveiled soon, Al Zahia continues to demonstrate its commitment to Sharjah's modern urban planning strategy.
Yousuf Kazim, Managing Director Majid Al Futtaim - Communities said "Through this partnership we continue to demonstrate the value that Majid Al Futtaim's wider ecosystem of expertise brings to the community. As Sharjah's premier lifestyle destination, we strive to provide the families with a true premium experience at their fingertips, through an effortless and rewarding lifestyle at Al Zahia."
Walid Al Hashimi, Chief Executive Officer at Sharjah Holding said: "The Carrefour store, as part of the wider North Hub destination, demonstrates our commitment to providing as complete a living experience as possible. It is through these value-adds that we can truly create a sense of belonging for our residents. North Hub complements the wider exclusive offerings of Al Zahia, including a Retail Plaza in Uptown Al Zahia with direct connection to the upcoming City Centre Al Zahia. It's all part of our new vision for Sharjah — to create a place that is built on a mix of traditional values and comfort."
Al Zahia, which is part of a strategic partnership between Majid Al Futtaim Properties and Sharjah Asset Management, is scheduled to be completed by 2023, and will include a total of 3,700 homes. Al Zahia is located off Sheikh Mohammed bin Zayed Road and directly on University City Road. To date, 55 per cent of the project has been sold, with 800 families already in residence.