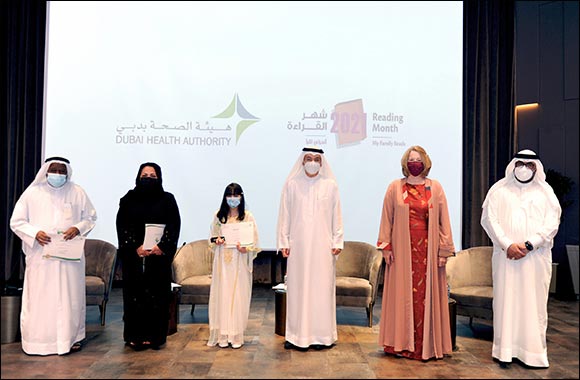 • UAE's Month of Reading is celebrated across the country in March every year.
• Symposium discussed importance of reading and the need to foster and cultivate a culture of reading among the youth.
• Community encouraged to read books and tag DHA on its socials using the hashtag #ReadwithDHA
Dubai, United Arab Emirates - April 10, 2021: The Dubai Health Authority held a symposium to conclude its activities to mark the month of reading.
The UAE month of reading is held in March every year and DHA conducted a series of seminars throughout the month to highlight the benefits of reading. DHA is also encouraging community members to tag DHA on its socials using the hashtag #ReadwithDHA.
The symposium to conclude the month of reading was organized by the DHA's Research, Studies and Data Analysis Department. It was attended by high-level DHA officials including Dr. Alawi Alsheikh Ali, Deputy Director General, Dr Marwan Al Mulla, CEO of Health Regulation and Saleh Al Hashimi, CEO of the Dubai Health Insurance Corporation.
Khalid Jallaf, Director of the Data Analysis, Research & Studies Department at the DHA moderated the symposium. He discussed the importance of inculcating a culture of reading, reading for academic growth and development as well as ensuring collaboration between all government departments to encourage collaboration in reading, research and innovation.
Speakers at the virtual symposium included esteemed members such as Isobel Abulhoul OBE, CEO and Trustee of the Emirates Literature Foundation, Aisha Sultan, a prominent writer and journalist as well as Mozna Najeeb, winner of the Arab Reading Challenge.
The symposium discussed various pertinent topics including the role of the family and the school in promoting reading among children as well as the emergence of e-books.
The speakers' highlighted that reading is the main source of knowledge, science, innovations and discoveries. It is one of the prevailing values in the UAE society and that His Highness Sheikh Khalifa bin Zayed Al Nahyan, President of the UAE provides his support and patronage to foster education, reading, knowledge and research.
The speakers appreciated and acknowledged the positive and empowering impact of the Arab Reading Challenge (ARC). The initiative was launched by His Highness Sheikh Mohammed bin Rashid Al Maktoum, Vice President and Prime Minister of the UAE and Ruler of Dubai five years ago to encourage students to read. ARC challenges students to read as many books as possible (over 50) in one academic year.
The participants also mentioned the overall positive impact and deep contribution of His Highness Sheikh Dr. Sultan bin Muhammad Al Qasimi, member of the Supreme Council of the United Arab Emirates, the Ruler of Sharjah, and President of American University of Sharjah through his various reading initiatives over the years.
At the end of the ceremony, DHA honoured the speakers for their participation and Dr Ali presented them with mementos and certificates.