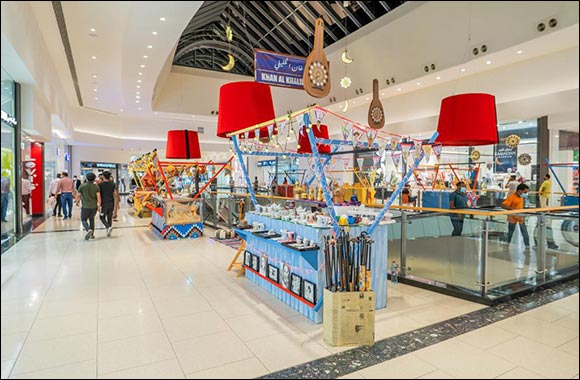 Dubai, UAE, 19 April 2020: Mall of the Emirates and Majid Al Futtaim's City Centres are celebrating Ramadan 2021 under the collective theme of United Together. The campaign — which aims to give back to the community on a whole new level while also giving customers the opportunity to give back — is offering customers a variety of diverse and engaging experiences across Majid Al Futtaim's UAE mall portfolio. Customers can expect themed pop-up markets, luxury capsule stores, chef's workshops and other exciting activations throughout the Holy Month.
Fuad Sharaf Managing Director, UAE, Majid Al Futtaim Properties commented: "This is the second year in which we are celebrating a different Ramadan to what we are used to. However, under the United Together theme we hope to enable visitors of Mall of the Emirates and our City Centres to enjoy a meaningful and special Holy Month. To ensure this we have created a series of authentic, traditional and unique experiences for our communities which celebrate different cultures and highlight the importance of togetherness and giving back."
Ramadan Markets
Engaging people until 15 May , shoppers visiting Mall of the Emirates will be able to enjoy a distinctive and vibrant Ramadan-themed pop-up market " Dar Al Hai " Souq in collaboration with Ripe Market. The bazaar will feature 13 home grown concepts selling home accessories, Abayat, sweets, Oud, board games, and fashion accessories among many others. Evoking nostalgia, the market will feature a rich range of Emirati all-time favourite elements and products, with a modern twist.
THAT concept store will have a Customization Zone for customers to enjoy Gift Wrapping, Engraving and other services that will be provided during the month of Ramadan.
After Iftar customers can enjoy some live entertainment daily which includes Oud players and Juice Server along with a Henna Artist every weekend.

Similarly, till 15 May, City Centre Sharjah's main atrium will transform into an authentic and colourful Khan Al Khalili Egyptian bazaar. With eight craft stalls and five F&B vendors, visitors can delight in browsing and shopping an array of Egyptian products or enjoying delectable bites at one of the food stalls.
Lamat Ramadan
During the Holy Month Ramadan, City Centre Al Zahia will be offering shoppers a beautifully themed and decorated gathering space or Lamat Ramadan. Running till 8 May, Visitors can visit the space to enjoy a wholesome Ramadan ambiance which includes a Kan Ya Makan exhibition which showcases Vintage elements, a Sahat Al Hara with old shops, a majlis for coffee and desserts, A hakawati for the lovely Ramadan stories along with a calligraphy corner and a kids activation corner.

In addition, City Centre Al Zahia will be hosting a Ramadan art exhibition at The Studio in collaboration with Kaskhka, in organizing a photography exhibition in collaboration with Sharjah University showcasing the varied aspects of this treasured Arabic / Emirati Jalabiya heritage.
A total of 5 students participated in the project captured the different styles of jalabiyas through their lens at the heart of Sharjah.
Parents would be able to enjoy their shopping while kids can be having fun at Yalla Fun and lastly customers can get the chance in winning one of three BMW 218i and weekly prizes worth AED 200,000 when spending a minimum of AED 200.
Giving Back
A month synonymous with giving back to those in need, Majid Al Futtaim's malls have collaborated with thirty F&B tenants and the Red Crescent to feed two families of six daily at one of the malls restaurants. The initiative which is name "The Table of Giving" will bring families together and truly highlight the spirit of the month.
Furthermore, the malls have launched a campaign through the SHARE loyalty programme in collaboration with the Red Crescent to feed 20,000 people through Share that will donate a Carrefour box on the behalf of each customer that dines at any F&B outlet across Majid Al Futtaim malls with a total value of AED 50 and scan their receipt on share app.
As always, "Make a Difference" donation boxes will be available throughout the malls for those wishing to make additional charitable contributions and really create a difference and draw smiles on the faces on those who celebrate Ramadan.
Gift Now Pay Later
Family and friends visiting Mall of the Emirates and any City Centre outlet in the UAE will be able to treat their loved ones this month with Special Gift Cards that buyers can pay later on for free interest instalment plan (applicable on gift cards that are worth between AED 1000 & AED 2000 ).
Tasty Workshops
To celebrate the different flavours and tastes of Ramadan, City Centre Deira is hosting Tasty Workshops. Hosted at Food Central — home to artisan culinary experiences — Food Central will be offering different workshops teaching visitors tips about food. These will include food photography sessions, the art of food presentation, cooking workshops for the whole family and coffee designing courses.