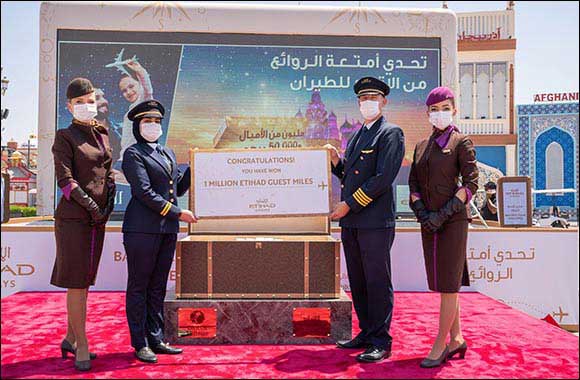 The partnership with Etihad Airways is attracting more and more interest with a million Etihad Guest Miles and AED 50,000 cash prizes awaiting the lucky winner
Dubai, UAE – 19 April 2021: Global Village, the UAE and wider region's leading multicultural family destination for culture, shopping, and entertainment, has revealed that the recently launched Etihad Baggage Claim Challenge has been welcomed with a positive reception by enthusiastic guests. The park partnered with Etihad Airways to provide guests with a unique opportunity to travel the world. Since its launch on Sunday, April 4th, the unique promotion has captured the imagination of those visiting the destination, with hundreds of participants entering daily for the chance to win.
As the latest Silver Jubilee Season activation, the Global Village guest that guesses the 5-digit combination code of the large locked travel trunk located in the Park will receive one million Etihad Guest Miles, AED 25,000 cash for their travels, and AED 25,000 to shop at Global Village as they prepare for the trip of a lifetime. Every few days, a number is being released until a winner cracks the code, and these are being published on various channels including the Etihad Guest website (www.EtihadGuest.com) and mobile app, Arabian Radio Network stations, and Global Village Instagram channel and mobile app. Two of the five numbers have already been revealed and with more digits set to be published soon, guests are urged to follow Global Village social media platforms and download the app to increase their chances of winning.
This exciting activation is part of the Ramadan Nights program where guests can enjoy time with friends and family every evening from 6pm until 2am.