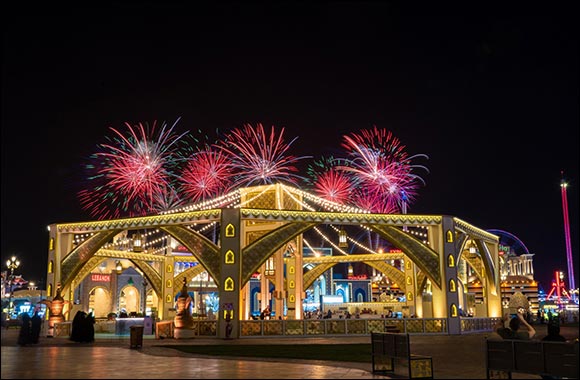 Silver Jubilee Season bows out in style with activities for the whole family across the park every evening between 6pm and 2am
Dubai, UAE – 22, April 2021: Global Village, the UAE and wider region's leading multicultural family destination for culture, shopping, and entertainment, continues to celebrate Ramadan with guests every evening as the Silver Jubilee Season nears its May 2nd conclusion. The Ramadan Nights program is taking place across the park from 6 pm until 2 am to accommodate Iftar and Suhoor, with various activities honouring the Holy Month as families discover Ramadan cultures and traditions from countries around the world.
The newly established Majlis of the World has become a standout attraction since Ramadan began and continues to attract positive feedback from guests of the park. Introduced as a reservation-only area for families to spend a relaxing evening, the Majilis' ambience is enhanced by talented live performers, with calligraphers, an Egyptian Tanoura show, traditional Musaharati Ramadan drummers, Oud, Nay and Qanoun players all part of the line-up. Guests can bring Iftar and Suhoor delights from over 200 restaurants, kiosks and trolleys across the park to their table or enjoy the hot beverages, Ramadan juices, snacks and sweets which are served at the majlis itself. Families and friends are enjoying the comfortable seating and traditional games such as Backgammon, Jackaroo, Chess and Cards in the wonderful majlis atmosphere.
Other attractions include the traditional Ramadan Cannon on the Main Stage fired each day by different representatives from the Global Village pavilions to signal the beginning of the Maghreb prayers and start of Iftar. The Kids Theatre welcomes young guests every night, providing a cinematic experience with much-loved characters on the big screen, while spectacular experiences also await in the Carnaval thanks to its many family rides, kids rides, thrill rides, skill games and walk-in attractions. It's not too late to try for a chance to with 1 million miles and AED 50 000 spending money at the Etihad Baggage Claim Challenge. And of course, Eid gift shopping couldn't be easier at the 3500 retail outlets in the Night Market ambience that Global Village is famous for.
So much to do and so little time as the countdown has started with just 11 evenings to go before the milestone 25th season draws to a close.