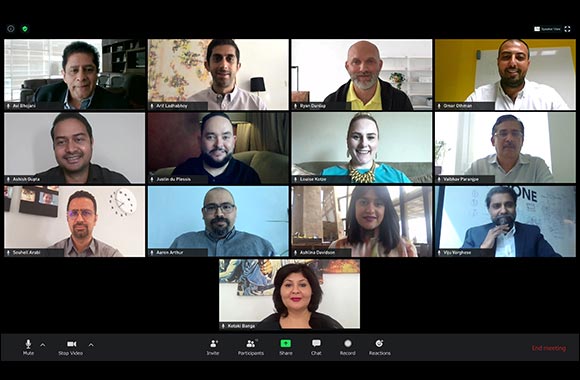 Dubai, UAE - April 14, 2021: Award-winning, omnichannel MarCom agency BPG, a part of the WPP network, reported a positive Q1 2021, having clocked up new business wins worth more than 35% of 2020 revenue and growing revenue from top clients by 31% YOY compared to Q1 2020. Operating from its hubs in Dubai and Kuwait, with spokes in KSA, Egypt and Levant, BPG bagged clients across a wide spectrum of industries, including fintech, financial sector, edtech, construction, technology, tourism, entertainment and healthcare – validating the 40-year-old agency's strengthened positioning.
Among BPG's significant new business wins is the integrated communications remit for AMANA, the leader in modular and design-build construction of industrial and commercial facilities in the Middle East, as it embarks on an ambitious brand transformation. BPG will be leading AMANA's rebranding, internal communications, PR and social media.
"Our mission as an omnichannel, MarCom partner is to connect people with brands through creative ideas, crafting and delivering integrated brand experiences that put real people at their heart. Digital media consumption is growing in the pandemic era, while media, communications, creativity, innovation and technology are all converging," Avi Bhojani, CEO, BPG, explained. "As our clients transform and adapt to this rapidly changing business environment, BPG is also adapting and innovating."
As part of its strategic growth drive underpinned by technology, BPG has strengthened its senior leadership team with key appointments, naming Ryan Dunlap as Senior Vice President and Chief Strategy Officer. Ryan brings over 15 years of experience across the US, Turkey and the UAE, in human-centric design, communications, and digital strategy to the role. He previously held senior leadership roles with Etihad Airways and Impact Proximity. His diverse experience spans a wide range of industries and geographies, having designed and developed communications, web applications and experiences for globally recognized brands.
Vaibhav Paranjpe has been named Senior Vice President and Head of Finance and Administration. Vaibhav, a qualified Chartered Accountant, brings two decade of leadership experience in the finance function at agencies such as Euro RSCG, Lowe & Partners, Brandcom and DDB, all in Dubai.
"Having broken down siloes of traditional organizational structures, BPG's model has omnichannel teams built around clients, with one client lead as the brand custodian. In the pandemic era, this has helped us continue to deliver ROI for our clients as we leverage the power of performance marketing, media services, social media, strategic PR, digital content and creative thinking for impactful, award-winning campaigns," said Ketaki Banga, Executive Vice President, BPG Dubai.
At the recent Cannes Digital Young Lions Awards, BPG went head-to-head with 14 teams from international and regional creative agencies to win a bronze medal. BPG was also a finalist for 19 categories and winner of 10 awards at MEPRA across diverse categories such as Best Consumer Goods Campaign, Best Art & Culture Campaign, Best Retail Campaign and Best Professional Services Campaign. The agency also picked up best campaign awards for clients in Kuwait, Oman and Saudi Arabia. This digitally driven, creative communications approach was also demonstrated in BPG's recent chatbot newsletter BPG LIVE.
"Our latest innovation BPG LIVE, developed in-house and powered by AI, really speaks of who we are in 2021: an innovation-driven agency, free of conventional siloes, with digital at its heart. Adapting with agility to the behavioral shifts in media consumption, we focused on creating an exploratory content journey that is impactful and unique to each consumer. The new BPG LIVE is a small taster of the interactive brand experiences and communications programs we are able to create for clients, all developed and delivered with our in-house talents," concluded Souheil Arabi, President, BPG Kuwait.